CosDent is recognized as the top Porcelain Cosmetic Dentistry clinic in Costa Rica.
We have over 30 years of experience in Cosmetic Dentistry. Contact us.
When you have lost one or several teeth, the best way to replace them is through dental implants.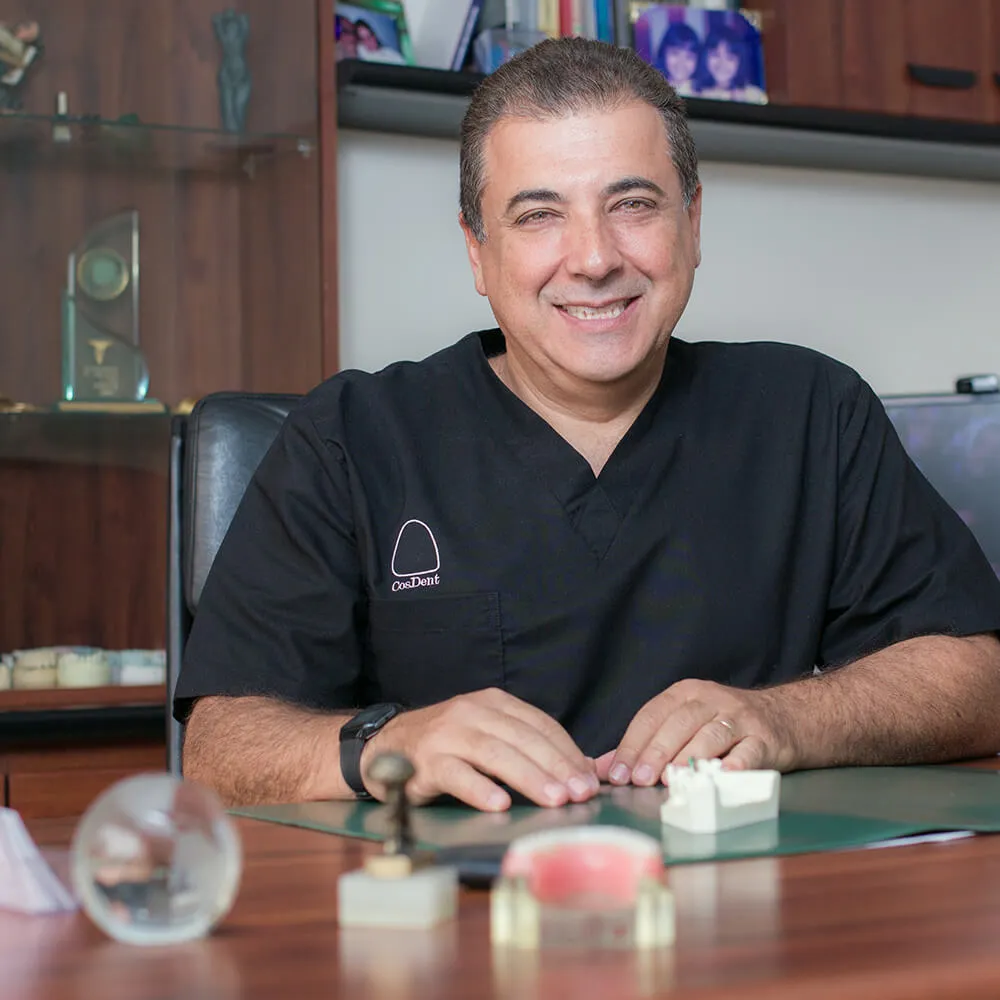 Specialized Clinic in Cosmetic Dentistry and Dental Implants.
All individuals possess numerous distinguishing characteristics, but undoubtedly, the smile is one of the most important and unique to each person. That's why, for over 25 years, at CosDent Clinic, we have been committed to achieving the perfect smile for each patient according to their needs and attributes.
At CosDent, we provide the finest treatments to enhance your smile optimally. We stand out for crafting each piece in our own laboratory with the dedication and precision needed to offer our patients a distinctive and flawless smile, with the utmost quality and excellence.
Our clinic was designed to serve you in a pleasant environment that allows you to feel comfortable throughout the entire process. Located in the heart of San Jose, the capital of Costa Rica, CosDent is conveniently situated near the finest hotels in the area and just 15 minutes away from Juan Santamaría International Airport.

"We use top-quality materials and cutting-edge technology on a global level to achieve wonderfully precise aesthetic results"


Explore Our Dental Services
Procedures aimed at enhancing the appearance of teeth, altering their shape, color, size, and even slightly adjusting their position.
Thin pieces of porcelain used to recreate the natural appearance of teeth, while also providing the strength and resilience comparable to natural tooth enamel.
When you have lost one or several teeth, the best way to replace them is through dental implants.
A crown is a dental restoration that completely covers or encircles a tooth or dental implant and is typically 'fixed' to the tooth with traditional dental cement.
Why Choose CosDent Clinic?
In our clinic, we have our own laboratory. We stand out by crafting each piece with the dedication and precision required to provide our patients with a unique and perfect smile, with the highest quality and excellence.
Visit our Blog
Don't miss out on a single dental tip or trend! Visit our dental blog and stay updated with useful and valuable content to improve your dental health.
Click here to explore our blog now!